You can help us build up our content by signing up and starting today!
Our goal is to make a concise guide to Hotrods along with the culture behind them. We want to include any TV shows, movies or magazines that are part of this culture as well as the people that build them.
If you would like to help by adding a photo or adding a page, go for it!
Featured Article
The Chevrolet Corvette is a Sports car that has been manufactured by Chevrolet since 1953. Today it is built at a General Motors assembly plant in Bowling Green, Kentucky, but in the past it was built in Flint, Michigan and St. Louis, Missouri. It was the first all-American sports car built by an American car manufacturer. The National Corvette Museum and annual National Corvette Homecoming are also located in Bowling Green, Kentucky. Read More
This article has been randomly selected from all of our articles. Each time you visit our site, you should see a new article here. For more information about it, click on read more. The resulting page will be the original article to be able to read the rest of it.
Ford Motor Company is an American Multinational corporation and the world's third largest automaker based on Worldwide vehicle sales. Based in Dearborn, a suburb of Detroit, the automaker was founded by Henry Ford and incorporated on June 16, 1903. Ford's overseas business encompasses only one truly global brand (Volvo of Sweden) other than the Ford brand itself, but it also owns a one-third Controlling interest in Mazda of Japan and a small holding in former subsidiary Aston Martin of England. Its former UK subsidiaries Jaguar and Land Rover were sold to Tata Motors of India in March 2008, both companies having been through many changes of ownership in the recent past. Lincoln (automobile) and Mercury (automobile) are also Ford's aspirational brands in the USA, but not in the rest of the world. Ford also sold the brand names of Daimler (excluding certain rights sold to Germany's Daimler AG), Lanchester, and Rover to Tata Motors of India. In 2007, Ford became the third-ranked automaker in US sales after General Motors and Toyota, falling from the second-ranked automaker slot for the first time in the previous 56 years. Ford was also the overall seventh-ranked American-based company in the 2007 Fortune 500 list, based on global revenues in 2006 of $160.1 billion. In 2007, Ford revenues increased to $173.9 billion, while producing 6.553 million automobiles and employing about 245,000 employees at around 100 plants and facilities worldwide. and fourteen vehicles ranked in the top three.
Ford introduced methods for large-scale manufacturing of cars and large-scale management of an industrial workforce, using elaborately engineered manufacturing sequences typified by moving Assembly lines. Henry Ford's methods came to be known around the world as Ford by 1914.
Your feedback will be used to help us improve the wiki!
Some of the best photos on the wiki
Your feedback will be used to help us improve the wiki!
Featured Image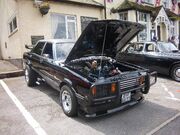 This image has been randomly selected from our archives. Each time you visit our site, you should see a new image here. For more information about it, click directly on the image. The resulting page will detail when it was uploaded, by whom, and often overview which articles use that particular image.
Please feel free to upload as many images as you like. Have fun!
Special Thanks
Special Thanks to:
Currently no one.
Wiki News
31st March 2012 Muira Adopts the Hotrod Wiki and it becomes the daughter wiki of The Classic Car Wiki.
More News coming soon!
To read any previous news please click here.
Facts
1. The first cars did not have steering wheels. Drivers steered with a lever.
2. The first speeding ticket was issued in 1902.
3. In 1916, 55 percent of the cars in the world were Model T Fords, a record that has never been beaten.
4. The first gas gauge appeared in cars in 1922.
5. The first car radio was invented in 1929.
6. Most American car horns beep in the key of F.
7. The automobile is the most recycled consumer product in the world today.
8. In 1914 a Ford Model T rolled of the line every 2 minutes.
9. In its 1st year the VW Beetle sold only 330 cars in the United States.
10 .The first Ford cars had Dodge engines.
We hope you enjoy these facts about cars and automotive history.
We hope you find these links useful
Disclaimer
Please be aware that the information on this site is based on that from Wikipedia. We do add information to pages based on our own knowledge and that of what owners and other people have told us.
We try our best to confirm that the information is correct. We do upload our own photos from shows and other classic car events.
This site is still a working progress!
Community content is available under
CC-BY-SA
unless otherwise noted.