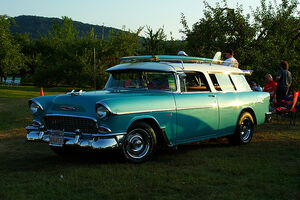 The Chevrolet Nomad was a Station wagon model produced by the Chevrolet Division of General Motors. The Nomad is best remembered in its two-door 1955-57 form, and was considered a halo model during its three-year production as a two-door station wagon.
The two-door Nomad differed from other station wagons of the era by having unique styling more reminiscent of a hardtop than of a standard station wagon. Chevrolet shared this body with its sister Pontiac, which marketed their version as the Pontiac.
The Nomad's unique design had its roots in a General Motors Motorama show car of the same name that was based on the Chevrolet. The Concept was introduced at the GM Motorama in 1954 as one of Head Stylist, Harley Earl's "dream cars".
GM approved production of the vehicle if the design could be transferred to its standard model, because top GM brass felt that they could sell more models if it were attached to the popular Chevrolet model.
While considered to be a milestone vehicle design, General Motors discontinued the original Nomad at the end of the 1957 model year due to low sales and the introduction of a new body for 1958.
For the 1958 model year, Chevrolet moved the Nomad name to its top-line four-door station wagon. Chevrolet continued to use the Nomad name until the end of the 1961 model year, when all Chevrolet station wagons adopted the names of the regular sedan models.
The 1964 and 1965 model years brought a revival of sorts for original 1955-1957 Nomad when Chevrolet produced a two-door mid-sized Chevrolet station wagon cast in a similar vein. The Nomad name was not used for these wagons, but between 1968 and 1972 the name was applied to the lowest-priced Chevelle four-door station wagon model. In the late 1970s and early 1980s, the name returned again on a trim package for the full size Chevrolet.
Concept cars
Edit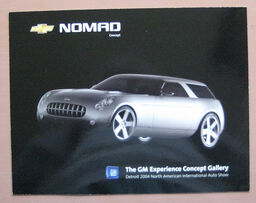 There have been two Nomad concept cars. The first one from 1999 was based on the F-body (Camaro) and was V8 powered [1] The second concept presented in 2004 was based on the GM Kappa platform, and highly resembled the original 1954 Corvette-based Nomad showcar. [2][3]
Community content is available under
CC-BY-SA
unless otherwise noted.